| | |
| --- | --- |
| Package | Paper carton with wooden pallet |
| Payment terms | T/T,L/C |
| Delivery time | With 20 days after deposit |
The vessel for ion exchange column material can be fiber glass ( FRP ) ; Stainless steel ;
Carbon steel etc
TWO-BED DEIONIZATION
The two-bed deionizer consists of two vessels - one containing a cation-exchange resin in the hydrogen (H+) form and the other containing an anion resin in the hydroxyl (OH-) form. After the resin from Cation Column process regenerated with Acid (HCl), all the cations are exchanged for hydrogen ions.To keep the water electrically balanced, for every monovalent cation, e.g. Na+, one hydrogen ion is exchanged and for every divalent cation, e.g. Ca2+, or Mg2+, two hydrogen ions are exchanged. The same principle applies when considering anion-exchange. The only difference is that regenerated with Alkali(NaOH) ;The decationised water then flows through the anion column. This time, all the negatively charged ions are exchanged for hydroxide ions which then combine with the hydrogen ions to form water (H2O).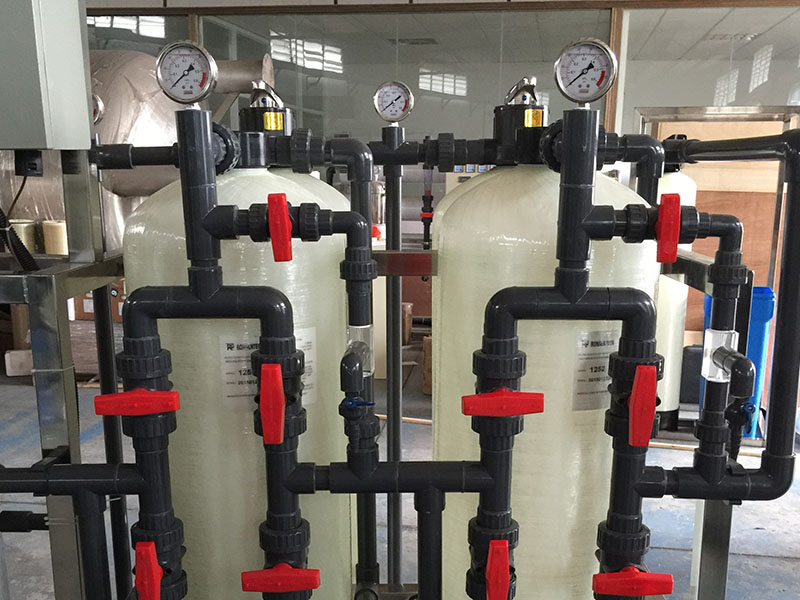 MIXED-BED DEIONIZATION
In mixed-bed deionizers the cation-exchange and anion-exchange resins are intimately mixed and contained in a single pressure vessel. The thorough mixture of cation-exchangers and anion-exchangers in a single column makes a mixed-bed deionizer equivalent to a lengthy series of two-bed plants. As a result, the water quality obtained from a mixed-bed deionizer is appreciably higher than that produced by a two-bed plant. Although more efficient in purifying the incoming feedwater, mixed-bed plants are more sensitive to impurities in the water supply and involve a more complicated regeneration process. Mixed-bed deionizers are normally used to 'polish' the water to higher levels of purity after it has been initially treated by either a two-bed deionizer or a reverse osmosis unit.
It is mainly used in boilers, thermal power plants, chemical industry, light industry, textiles, medicine, biology, electronics, nuclear energy, and the pre-treatment for pure water treatment plant; also for industrial production requires hard water softening and deionized water preparation; it can also be used for the decolorization and purification of food drugs, the recovery of precious metals, chemical raw materials, and the treatment of electroplating wastewater