Introduction
The 800 GPD Industrial reverse osmosis system is a premium water purification product designed to convert water into pure and palatable drinking water. Advanced RO membranes used in reverse osmosis systems safely remove up to 98% dissolved solids, metals and hazardous chemicals from water. RO membrane components are designed to meet the diverse needs of a wide range of industrial, municipal, commercial and drinking water applications. Our advanced manufacturing technology ensures perfect performance and productivity with the highest quality and consistency of reverse osmosis systems.
When buying a water purifier, people often hear the recovery rate, and the recovery rate is set to a value that affect the quality of the pure water. Firstly understand what the recovery rate is. Recovery rate is the percentage of feed water that is converted to pure water in a RO membrane system. It is often desirable to maximize the recovery rate in order to obtain the maximum amount of pure water, However, the limit value of recovery rate is RO membrane system should be not precipitate and have supersaturation of impurities such as salts. This concept is very important because the recovery rate of the reverse osmosis system also affects the quality of the produced water. The higher the recovery rate, the higher the concentration of concentrated water that is ultimately discharged from the system, and the higher the permeate water concentration of the final RO membrane. For large reverse osmosis systems, the recovery is usually limited by the insoluble salt and the maximum concentration of concentrated water; for small RO systems, the recovery rate is usually less than 30-50%. At lower recovery rates, the RO system can operate safely without need to control the solubility of the insoluble salts.
However, for ordinary consumers, they don't know how many values are set. The RO reverse osmosis system designed by Einfach is based on the preset influent water quality. Just communicate with our engineers about the influent water quality and the expected water quality. In the RO system production process, you can set the recovery rate by yourself. If you want to adjust the recovery rate later, the concentrated water valve on the concentrated water pipe can be easily adjusted and set the recovery rate.
Advantage
Flow Chart
Raw water pump --Automatic sand filter--Activate carbon filter--Softener--Precision filter--High pressure pump-- RO system-- UV sterilizer

Function
| | |
| --- | --- |
| Item | Function |
| Raw water pump | offer pressure to pretreatment system |
| Automatic sand filter | get rid of colloid, suspended matter, organic matter and turbidity etc. |
| Activate carbon filter | Remove harmful matter, color, free chloride, organic matter etc. |
| Softener | exchange "ions" of calcium and magnesium with the most easiest way. |
| precision filter | prevent viruses, large particles, bacteria into RO membrane, as its accuracy is 5um |
| High pressure pump | Offer  high pressure to RO membrane |
| RO system | it is main part of the ro plant. The RO membrane's desalting rate can reach 99%, removing over 99% ions and harmful matter |
| UV sterilizer | kill all bacteria |
Description
| | |
| --- | --- |
| Capacity | 800GPD |
| Voltage | 220V/50Hz |
| Recovery | 45%-50% |
| Desalination | 96%-99% |
| Control Type | Mini controller |
| Membrane Qty | 1pcs |
| Temp of raw water | 1-45℃ |
| Feed Water Pressure | 1-5 bar |
| Raw water TDS | 0-1000ppm |
| Application raw water | Tap water, city water, ground water,well water |
| Raw water pump | CNP |
| RO Membrane | Vontron,Dow |
| | |
| --- | --- |
| Item name | Material |
| Raw water pump | SS304 |
| The pipe of raw water pump | PVC |
| FRP Tank | FRP |
| up and down water distributor | ABS |
| Pressure gauge | assembly |
| control valve | Engineering plastics |
| Brine Tank | PE |
| HP PUMP | SS304 |
| RO Membrane housing | SS |
| Pure Flow meter | Plexiglas Panel |
| waste Flow meter | Plexiglas Panel |
| Conductivity meter | engineering plastics |
| Pressure switch | brass |
| inlet valve | brass |
| flush valve | brass |
| Regulating valve | brass |
| UV sterilizer | SS304 |
| Electronic control system | air switch.electric relay.contractor.switch.LED |
| control box | SS304 /Mild Steel |
| Frame | SUS304 |
| pipeline | UPVC 3/4'' |
PRODUCT DETAILS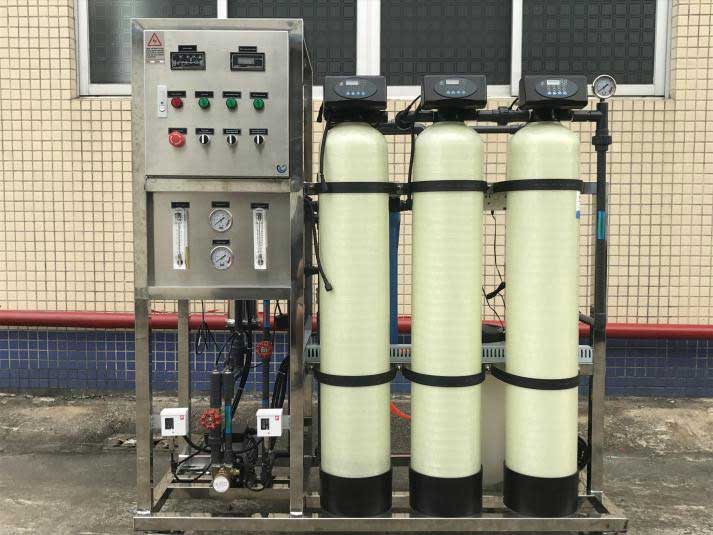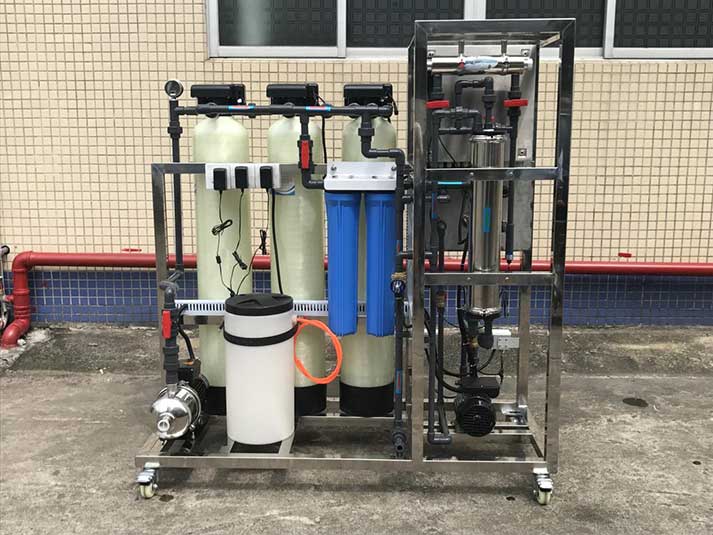 Accessories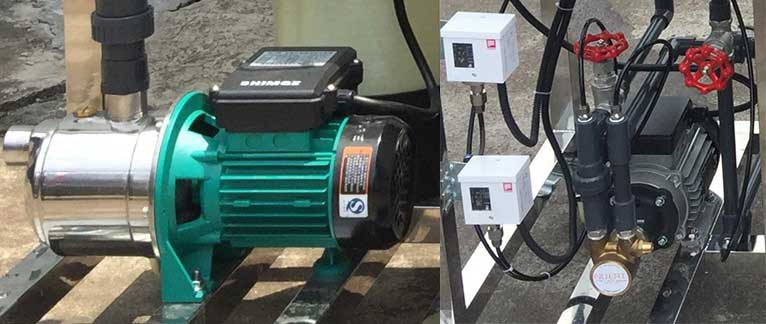 NCP raw water pump, stainless steel good quality and long lasting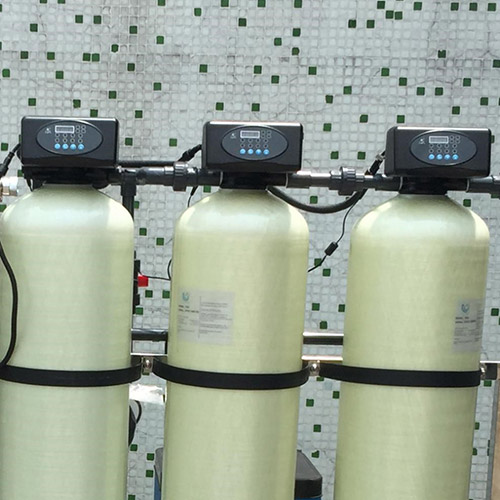 Automatic control valves, easy to control, efficient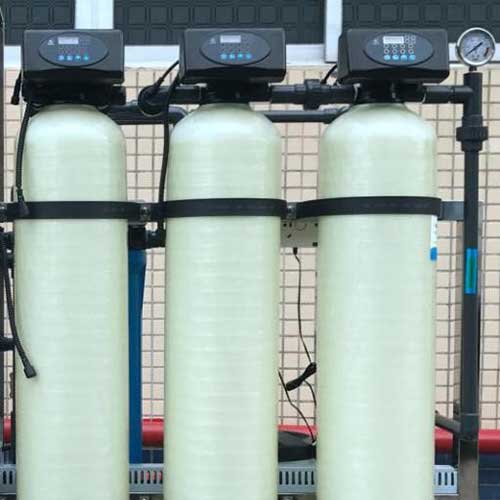 Sand filter+Activated carbon filter+Water softener:removal out all Types Of Contaminants and Odor off the water.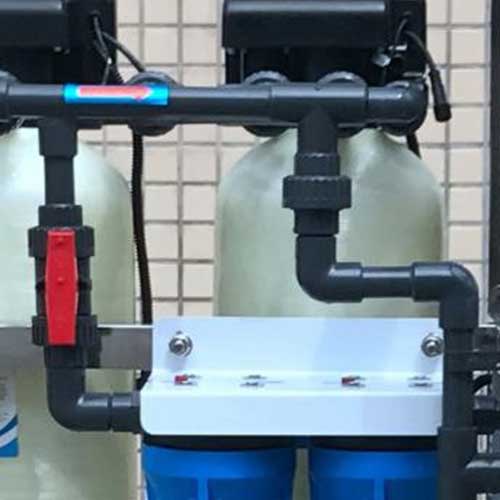 Precision filter:add PP filter and carbon filter to protect membrane and extend membrane service life
Good brand Vontron Membrane with high quality SS membrane housing can keep lasting 2-3 years,remove 90 to 99.99% of the dissolved impurities that reside in your water.

Schneider Electronic control system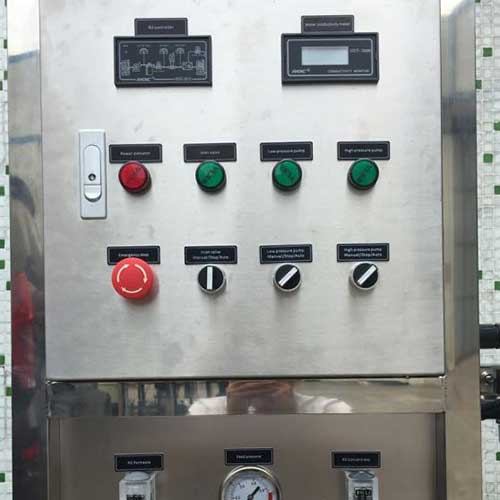 Mini Controller with TDS screen,Pure Flow meter and Conductivity meter, easy to handle
Consumable list and replace time
| | | | |
| --- | --- | --- | --- |
| S/N | Name | Material | Service life |
| 1 | automatic sand filter |                       Quartz sand | 2-3years |
| 2 | activate carbon filter | Activated carbon | 1year |
| 3 | softener | resin | 1year |
| 4 | precision filter | PP,CTO | 3-6 months |
| 5 | RO membrane | Vontron/Dow/CSM etc; | 2-3 years |