Introduction
Ultra filtration system is a pressure driven membrane separation process that removes suspended or particulate matters (including colloids & silt) from water. It serves as a pretreatment for surface water, sea water and biologically-treated municipal effluent before reverse osmosis and other membrane systems. In addition to superior turbidity removal, UF ultra filtration system efficiently removes bacteria and most viruses. Einfach also have other brand's UF membrane, like GE UF membrane, Bangmo UF membrane, Saveyor UF membrane.
The dosing system is mainly composed of a dosing pump, a dosing tank, and dosing chemical. The main types of dosing chemical are organic flocculants, bactericidal algaecides, scale inhibitors and other major categories. The organic flocculant removes suspended solids from the water to purify the water.
At present, there are two main types of water treatment bactericidal algicides, namely oxidizing bactericides and non-oxidizing bactericides. The use of this dosing chemical can prevent the corrosion and blockage caused by moss, bacteria and algae on the equipment, improve the working efficiency of the circulating water system and prolong the service life of the equipment. The scale inhibitor has the function of dispersing the sparingly soluble inorganic salt in the water, preventing or disturbing the precipitation and scaling of the poorly soluble inorganic salt on the metal surface.
Advantage
Description
| | |
| --- | --- |
| Item name | Material |
| Raw water pump &accessories | SUS304 |
| Back washing pump | SUS304 |
| Precision filter | SUS304 |
| Filter cartridge | PP |
| Central controlling system | Schneider Relay,AC |
| 8040 UF membrane | PVC |
| Inline flow meter | Plexiglases pipeline |
| Pressure gauge | Oil filled antisepsis panel |
| Pressure switch | Mechanical |
| Solenoid valve | Brass |
| Adjustment valve | Brass |
| High liquid level protecting switch | Cable type float switch |
| Inlet/outlet pipes&valves | UPVC |
| UV | 110W without control panel |
| Stainless steel frame | SUS304 |
| CIP pump | SUS304 |
| Bag filter housing | SUS304 |
| Filter bag-PP | PP |
| Dosing pump | PVDF |
| Dosing tank | PE |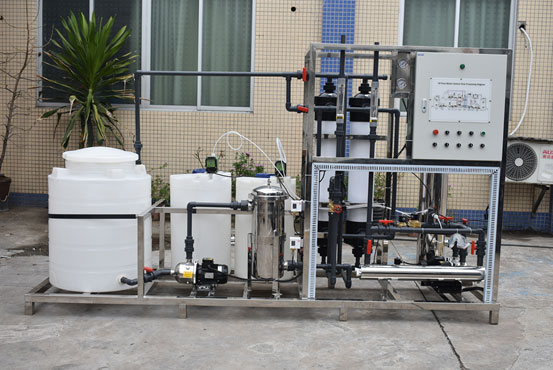 Accessories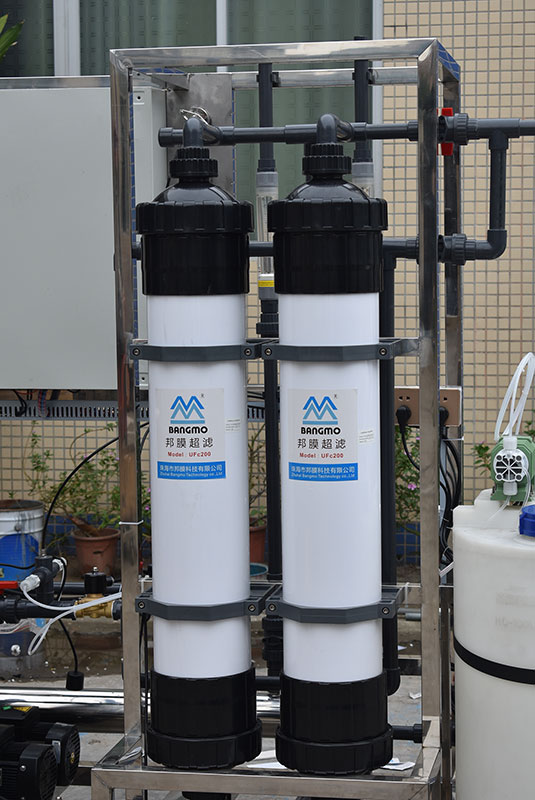 Good brand Bangmo UF Membrane with high quality FRP membrane housing can keep lasting 2-3 years,remove 90 to 99.99% of the dissolved impurities that reside in your water.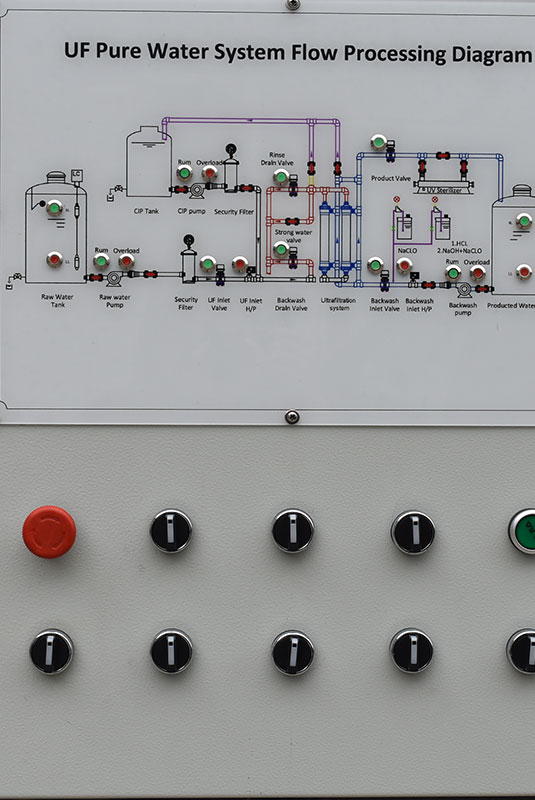 Easy operation:Flow chat in control panel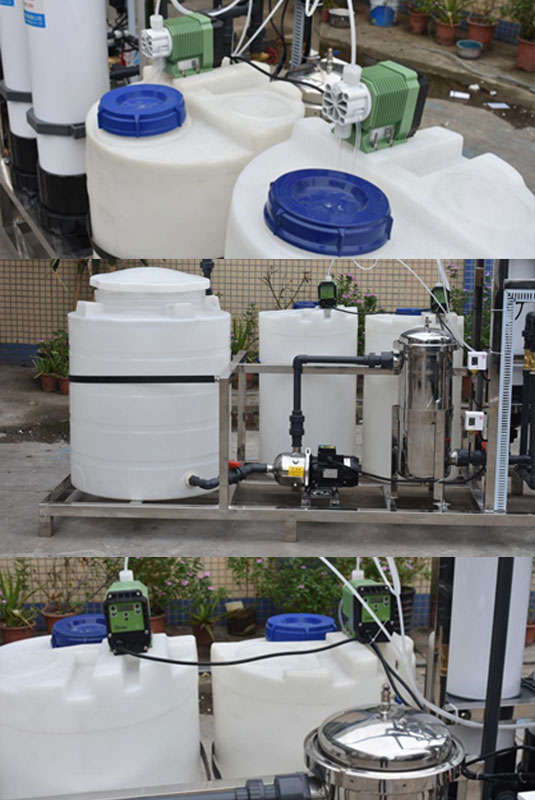 Dosing system:Efficiently sterilize and kill virus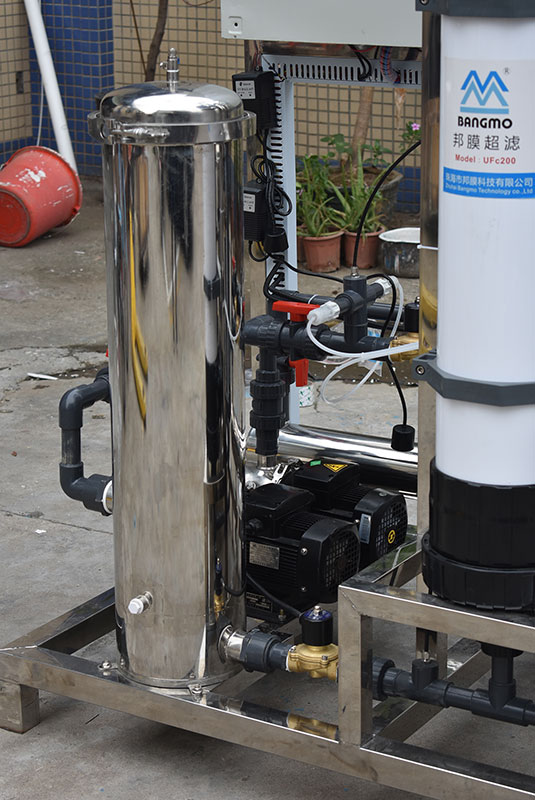 Precision filter:Add PP filter cartridge to protect membrane and extend membrane service life.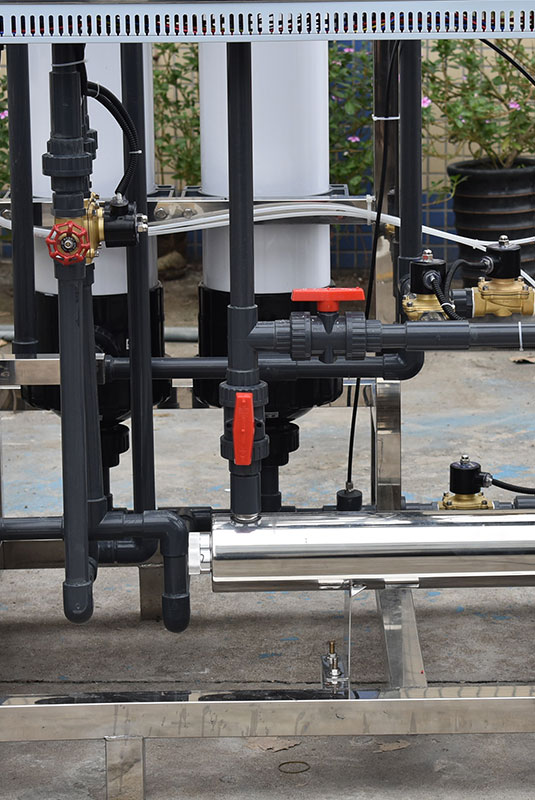 UV sterilization:Efficient sterilization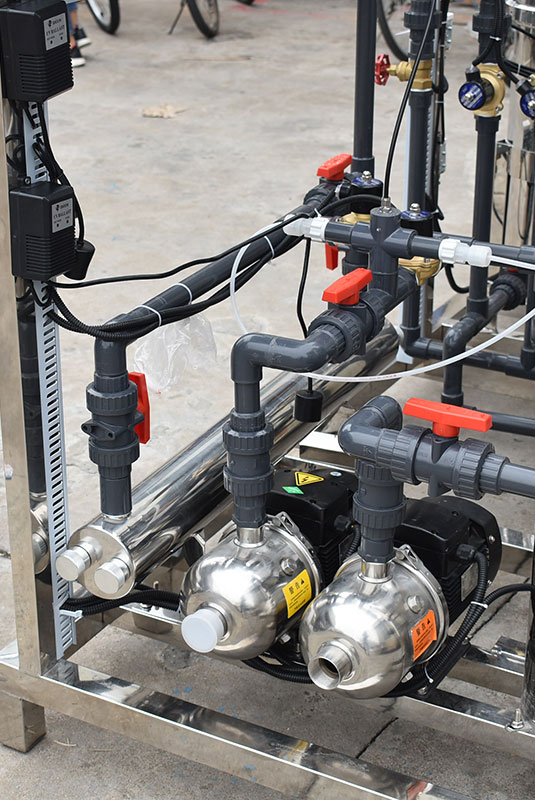 NCP raw water pump: Stainless steel good quality and long lasting
Consumable list and replace time
| | | | |
| --- | --- | --- | --- |
| S/N | Name | Material | Service life |
| 1 | Precision filter | PP | 3-6 months |
| 2 | UF membrane | Bangmo Vontron/Dow/CSM etc; | 2-3 years |